Elder Care in Statesville NC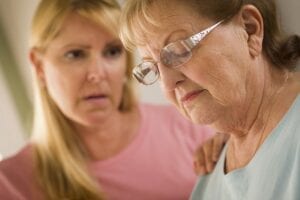 Finding out that your aging parent has Alzheimer's disease is one of the most difficult experiences that you can have in your elder care journey. This situation, however, can become even more challenging when your loved one begins to display combative behaviors. Behaviors such as shouting, kicking, using foul language, spitting, biting, resisting care, or belittling are upsetting and stressful. It is important that you learn to approach and handle these behaviors effectively, however, so that you can continue giving the best care possible to your elderly parent.
Use these tips to help you cope when combative behaviors become a part of your elder care journey with your parent who has Alzheimer's:
• Realize that you are not alone. It is easy to feel isolated when dealing with combative behaviors from your aging parent. This is, after all, the person who you love and for whom you put so much effort toward caring. It is important to realize, however, that these behaviors are actually fairly common. Approximately 30 percent of seniors with Alzheimer's disease will develop combative behaviors. Just knowing this will make you feel more secure and confident about handling them as they arise.
• Separate them from your parent. When you are dealing with your parent being aggressive toward you you might feel like you have lost the person you love. You might worry that you will no longer receive the love that you need from them, or that you are giving this care in vain. It is in these moments that you must take a step back and consciously separate these behaviors from your parent as an individual. Remind yourself that it is the disease causing these actions, not your parent. Remember that just as your parent cannot control their memory loss or cognitive decline, they cannot control these behaviors either.
• Protect yourself. If your parent's behaviors are potentially dangerous, make sure that you take steps to protect yourself in all of these situations. Get out of the room or get to a safe place in the room for the duration of the episode. Do not attempt to fight back or let your upset or anger at the situation control your reaction.
• Evaluate unmet needs. Though it can seem like these behaviors come out of nowhere, they are often linked to unmet needs. Remember that seniors with Alzheimer's disease often cannot properly express what they are feeling and may not even know what they need. This does not stop them from feeling these unmet needs. Not being able to properly express or fulfill them, however, can lead to aggression, frustration, aggravation, and the compulsion to act out. Take the time to determine if your parent is suffering from some sort of unmet need such as being hungry, thirsty, tired, bored, or in pain. If you can identify an unmet need, fulfill it as best you can and take steps to prevent this need from becoming unmet again.
Source
http://www.alz.org/documents/heartofamerica/Behavior-Combative.pdf
If you or an aging loved one are considering elder care in Statesville, NC, contact Caring at Heart today. Our staff will answer all of your questions about caring for an aging adult. Serving Charlotte, Statesville, Ballantyne, Mooresville, Huntersville, Matthews, Concord, Gastonia, Pineville and Indian Trail. CALL TODAY (704) 837-4564.